Emissions Reduction and Mitigation in Shipping
Infospectrum's ESG whitepaper focused on decarbonisation in shipping
To create awareness of the opportunities and challenges, concepts and trends, and accepted best practices in this rapidly evolving landscape, our recently launched "ESG Desk" will be publishing insights and whitepapers on key developments in the ESG sphere.
The first paper explores the drivers (regulatory and voluntary) and solutions (technological, financial, and operational) that will influence shipping's strategic transition towards net zero carbon. Readers can expect to:
Understand the impact of the IMO's upcoming regulation on operations and tonnage availability

Read about carbon tax and Emissions Trading Systems (ETS) (including the EU's recently announced ETS framework) that will take centre stage in global negotiations later this year and beyond

Gain awareness of the technological solutions supporting ESG initiatives (both currently available as well as those under development), while exploring voluntary mitigation efforts such as carbon offsets and 'green LNG'

Discover the financing initiatives facilitating decarbonisation in shipping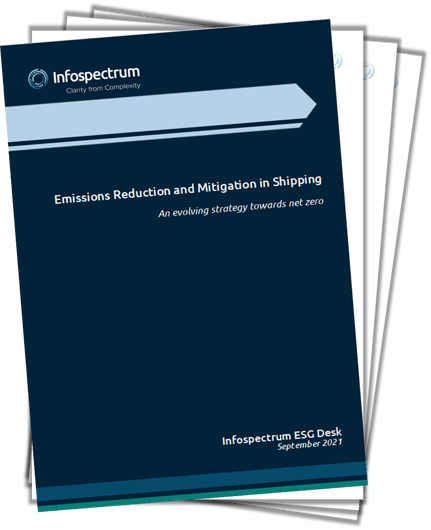 To learn more about Infospectrum's other counterparty risk appraisal services, please click here.