Get access to the latest compliance and KYC information on the counterparty you're interested in partnering with
When it comes to international trade, and the financial and reputational security of your business, executing your KYC due diligence has never been so important. It can be hard to identify the right option for your business, which is why our analysts produce industry leading reports - so you have all the information you need to stay protected.
Each report is drafted by our team of expert analysts, meaning the information we provide is always impartial, relevant and up-to-date, and can be tailored to your individual needs.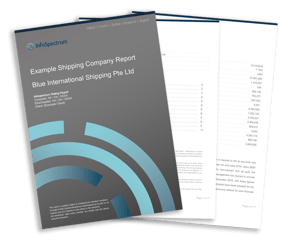 In our sample reports you'll find information on:
Market Position & Performance
Legal Standing & History
Operational & Corporate Structure
Financial Health
Credit Risk Assessment
Company Values & Philosophy
Beneficial Ownership
Rating
Fill in the form to access your copy of one of the following:
Counterparty Risk Appraisal Report - maritime sector

Counterparty Risk Appraisal Report - commodity/energy trading sector