Sirius Sanctions Search Platform
In an increasingly complex global sanctions environment, where critical changes can occur at any time, it is vital to have access to the latest sanctions data for your compliance processes.
With Sirius you can quickly search the following 8 key sanctions lists for vessels, companies, and individuals, and identify any matches. Every hour we draw from:
UK - Financial sanctions targets: list of all asset-freeze targets
UN - United Nations Security Council Consolidated List
EU - Consolidated Sanctions List
US - Consolidated Sanctions List
US - Specially Designated Nationals And Blocked Persons List (SDN)
Switzerland - Consolidated Sanctions List
Australia - Consolidated Sanctions List
Canada - Consolidated Canadian Autonomous Sanctions List
Sirius also allows you to generate a time and date-stamped PDF record of every search, to support your compliance and audit trail requirements.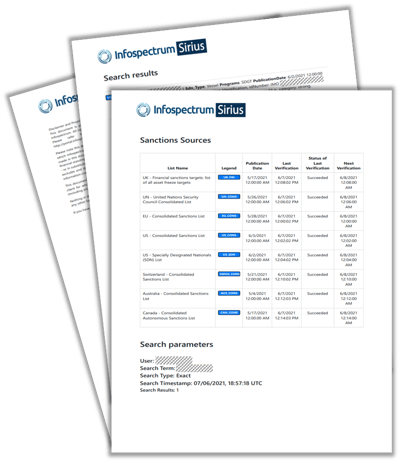 If you would like more information on any of the above matters, wish to request a demonstration of Sirius, or would like to add this resource to your existing Infospectrum Portal account, please complete the form on this page.